Raindrop Massage Therapist Course
What if you could continue to help the clients you have right now while reducing pressure on your joints? We've got a modality for that. Raindrop Massage can apply to a wide array of clients, giving you the power to keep treating the clientele you love while awarding you more energy at the end of your workday! 
Now that sounds nice. Imagine no longer feeling drained after a full day of clients. Or avoiding your " energy gas tank" from running on empty because you had a new skill that worked with AND for your clients. 
SEE WHAT RESULTS MY STUDENTS ARE GETTING...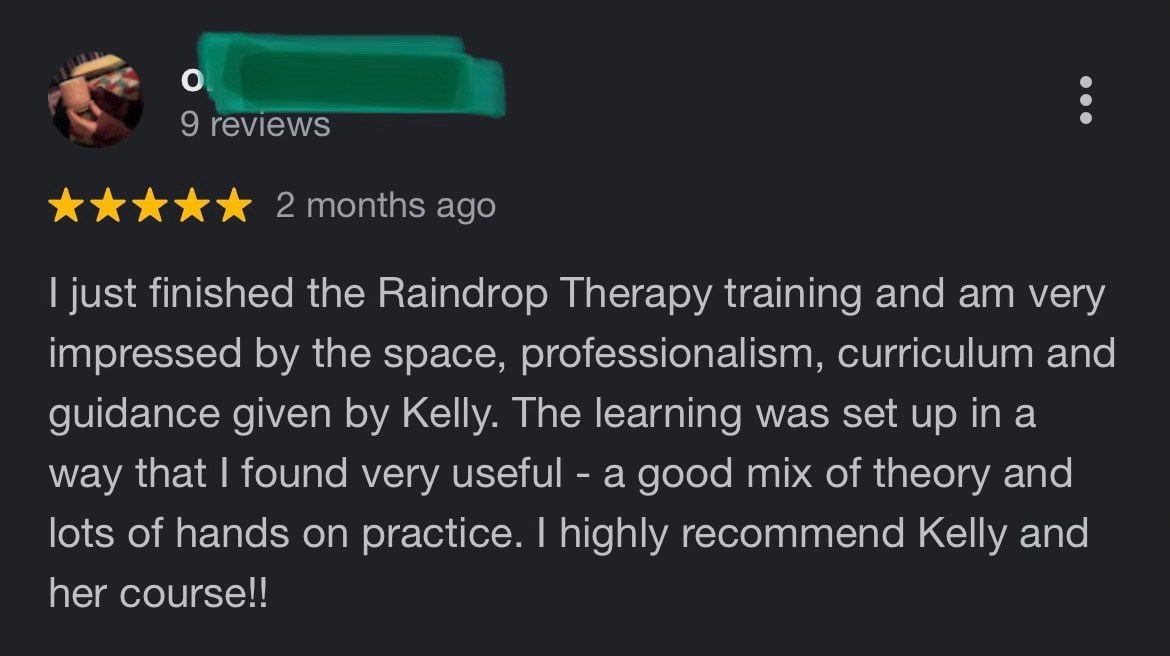 Hi, I'm Kelly
RMT & Massage Educator with an undying passion to help as many massage therapists as possible. In another life, I think I would have pursued a teaching or copywriting career.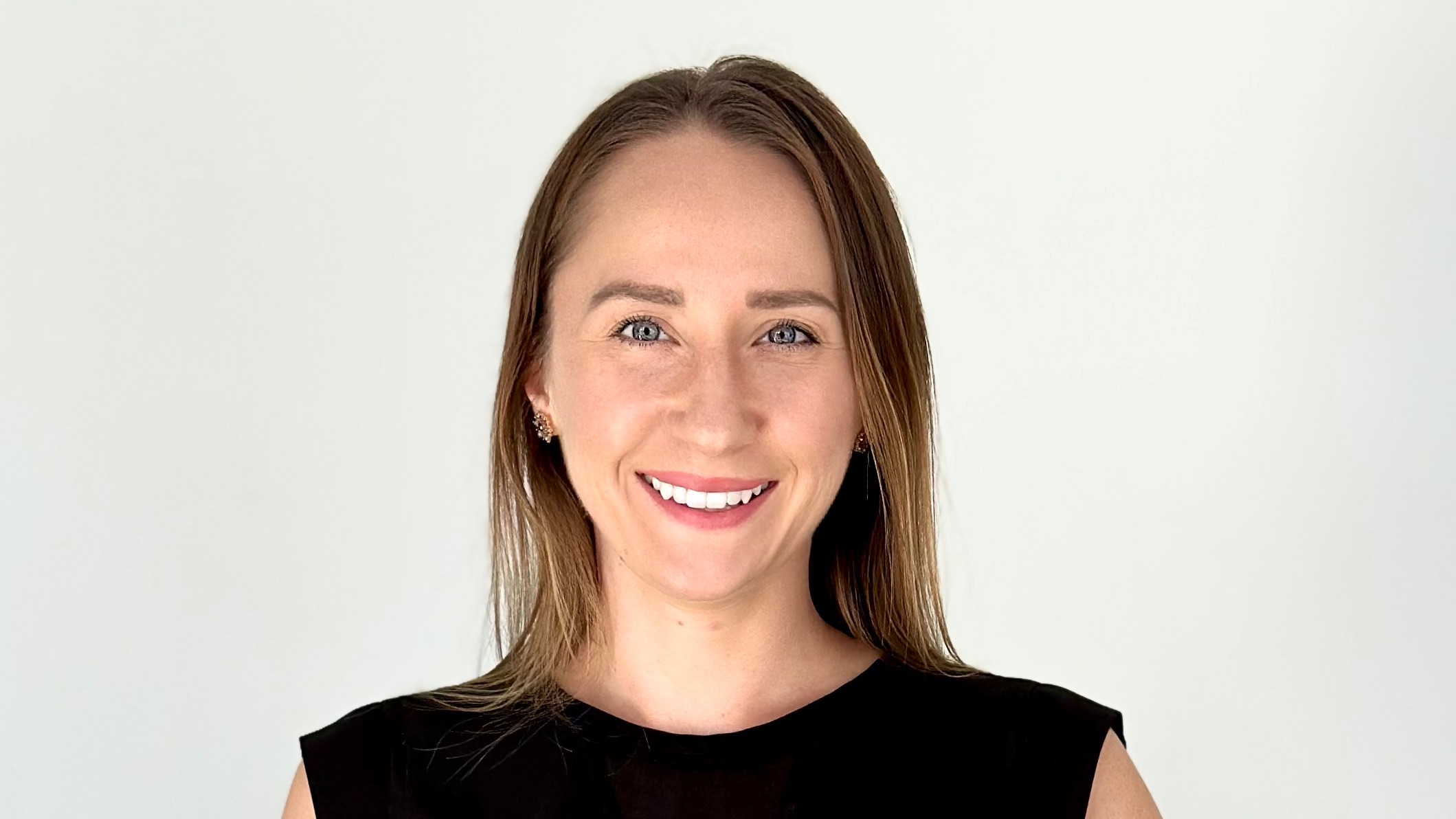 I'll be honest with you, learning Raindrop Therapy wasn't my first choice.
I chose to learn it because I already had cupping and hot stone, and thought "what else is left to learn?". After taking the course, I was ELATED, like, generally EXCITED that I did this. The information about Raindrop and the way it helped the students in class as we learned was transformational for me. I could see my career opening up in a whole new direction that I never considered.
Therapeutic treatments are what I tend to lean towards; give me the client with missing puzzle pieces and let me see how they fit (or don't). Learning Raindrop Massage showed me the piece I was missing in my puzzle-building skills for many of my clients with neurological-based diseases, high anxiety, those battling depression, sleep troubles, gut troubles, and more. (I told you, a wide array of clients!) 
It let me adapt my treatment planning and gain client results with people who weren't seeing large improvements anymore with therapeutic, hot stone, or cupping work. It also become a tool they schedule intermittently throughout the year to cope with upcoming life events that generated stress for them. It was basically booking itself after a client tried it because the way it made them feel was so different than other massage styles.
Now, I love it SO much, that I felt the need to share it with other therapists and body workers. Over time, there were different aspects I changed or added, and so I've included all this information in my own course. You get the full benefit of my years worth of trial and errors with applying this massage in my own practice, my search for certainty in how to tell clients about the benefits without sounding "salesy", and 30 unique tips and tricks for you and your clients to make the best of the session before, during, and after. Welcome to my Raindrop Massage Therapist course! 
READY TO LEARN? LET'S GO!
This course is for you if..
You are looking for new massage technique ideas. 

You like 1 day courses

You love helping your therapeutic and deep tissue clients while saving your body from the heavy pressure 

You're seeking a modality that's as therapeutic for the you as it is for your client

You enjoy Aromatherapy and want to learn the basics of safe treatment.  
This course is not for you if... 
You are allergic to a variety of essential oils. 

You have strong smell aversions.

(Raindrop Massage oil blend smells wonderful! However, from my experience the last 6 years, everyone tolerates smells differently. Heck, I used to have a client who was smell-aversed to hair spray so I couldn't use it on days she was in the office)
This course promises to... 
Arm you with background knowledge of the oils and Raindrop technique so you can confidently answer common client FAQ questions 

Teach you technique safety and proper body mechanics 

Easily complete a Raindrop Massage that can be adapted into a 45, 60, or 90 minute session to fit your schedule 

Offer you cool ideas to generate extra revenue without increasing the amount of clients you take in a month 

Keep your learning up to date and ongoing with a downloadable student syllabus that you can refer back to any time (AND technique videos you can watch over and over) 

Reduce you own physical soreness at the end of each work day
Show Me Class Options
COMMON FAQ QUESTIONS
Massage Therapists Ask About This Course
Who can take this course? Registered massage therapists, licensed massage therapists, reflexologists, spa massage therapists. Student massage therapists or other health professions can email Kelly at [email protected] to inquire about taking the course.
Is this course approved for continuing education credits? Yes, NHPC, CMMOTA, and CRMTA have approved this course. Email [email protected] to request approval for your association if it's not listed.
How can I take this course? We have 3 types of classes: In-person at a city near you,  Online via Zoom, or by our self-paced online learning option (coming soon)
Can I take this course in-person if I'm pregnant or breast-feeding. Yes! You can definitely still take this course in person! We adapt aspects of the course, like applying the techniques without oils, when we do model work. You will, however, get the awesome Aromatherapy benefits of being in the room as we practice (the same as if you'd use a diffuser with essential oils in your home) 
What oils are used?
There are 10 standard ones in total, with the option to include 3 more. These 13 oils are: 
Oregano 

Thyme 

Basil 

Sweet Birch 

Cedarwood 

Peppermint 

Lavender 

Marjoram 

Valour 

Ravensara

White Angelica 

Cypress 

Wintergreen 

 
How much does a standard Raindrop Oil Kit Cost? If you're piecing together your own Raindrop oil kit, students can expect to spend $120 and up.
Are Kits included in the course? Kits are available for an additional cost of $50 for in-person courses. We try our best to keep start-up kits affordable and sell them at cost. Kits are not included in self paced or online courses. 
What brand of essential oils do you use for your start-up kits? Natures Essential Garden made in Alberta - http://naturesessentialgarden.ca/. We LOVE this company and have used them for years. They're great quality and affordable with a wide arrange of other products that compliment their essential oils.  
What other brands of oils do you recommend if I want to buy my own oils? We don't have a specific brand, but the main thing to emphasize here is quality. Buy oils that are therapeutic grade, packaged correctly in dark coloured glass bottles, have strongly sealable lids, and are not "fragrance oils" (another term for perfume oils).
How long to Raindrop OIl Kits generally last? That depends on the size of the oil bottles you buy. Most companies will have either 10ml or 30ml options, or both. It your kit has 10ml bottles only, you can expect to perform approximately 30 treatments before having to re-stock on some oils.
Online Via Zoom
$190
No Raindrop Oil Kit Included
In-Person
$280
Startup Raindrop Kits Available
Course Dates 
Online Via Zoom, Click a Class Date To See More Details: 
In-Person throughout Alberta, Click a Class Date To See More Details
OUR MASSAGE EDUCATION MISSION



Massage therapists all over the world seek to live amazing lives, have dream incomes, and master business skills. 
Breakthrough Massage Academy has set a mission to help 1,000 massage therapists in the next 5 years through unique continuing education and business courses. 
We believe to do this well, it starts from offering great client experiences. And how do you get a great client experience? From confident, joyful, and enthusiastic therapists who truly love what they do.
If we can help 1000 practitioners feel those things (confident, joyful, and enthusiastic about their work), feel those things through what we teach, we can give 1,000,000 clients AMAZING massage experiences. Now that's impactful. 
Join Our Free Massage Mentorship Community